brass wire mesh
Brass & Copper :
Brass: As the alloy of copper and zinc, brass wire mesh has excellent abrasion resistance, corrosion-resisting, lower electric conductivity as compared with copper.
Copper: Copper wire offers excellent electrical and thermal conductivity, it is non-magnetic, anti-sparking and is resistance to atmospheric corrosion, salt air and brine. Copper applications are limited due to its low tensile strength, poor resistance to abrasion and common.
Phosphor bronze is an alloy of Tin, phosphor and copper. It is corrosion-resisting, wear-resisting, tear-resisting, but not suitable for exposure to hydrochloric or strong oxidizing agents.

brass wire mesh specification

Mesh count: 6 mesh/inch - 200 mesh/inch
Opening:0.076mm - 3.522mm
Wire diameter: 0.051mm - 0.711mm
Width:1m, 1.22m or at client's request.
Length: 30m or 50m
Usage: Separation and sifting kinds pellet, grain, porcelain earth and glass, chinaware printing, filter liquid.
Packaging & Delivery
Packaging Details:Packaged with water proof paper per roll,then in wooden carton.Delivery Detail:With in 15days after received the advanced payment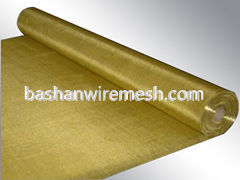 China steel mesh manufacturers Brass Wire Mesh
Material
Copper, brass, tin bronze, phosphor bronze
General purpose
1,Copying newsprint, printing paper with 60 to 70 mesh copper mesh
2,Typing paper with 90 to 100 mesh copper network
Features

1,good corrosion resistance and wear resistance.

2,Phosphor bronze net, with superior tensile, bending force, wear resistance and 3,stretching force.

4,Brass mesh has appropriate tensile and extensibility, mesh habit per inch in the number of meridians for the mesh.

5,The smaller the mesh, the larger the mesh, the better the water filtration performance.
Our Company:
Xinxiang Bashan Aero Material Co., Ltd.
In more than 62 years experience of metal wire cold drawing, metal wire mesh weaving and deep processing products,

Bashan company acquired 24 metal wire & mesh patents and took chief part of 19 standards, such as
GB/T4240, GB/T5330, GB/T6003, GJB107, HB1862, etc. (GB/T, national standard; GJB national
military defense standard; HB, aviation standard.)
Our Certifications:

1)Passed ISO9001:2008 quality certificate
2)Passed ISO/TS16949:2009 certificate
3)Passed GJB9001A-2001 military quality certificate.
4)Drafted GJB119.1A-119.4A-2001, GJB107-5110-2002, GB/T5330-2003,HB1862-93
Packing & Delivery:

SUS304 SUS316 Series Stainless Steel Wire Mesh
Contact Supplier: